A comparison guide between the Do-It-Yourself FHIR Implementation or Smile's enterprise solution.
If you're familiar with FHIR® (Fast Healthcare Interoperability Resources), then you know that being an open standard has played a key role in its early adoption and success—not just in implementation, but in the development of a collaborative community across the globe.

These open source roots mean that any healthcare organization can use FHIR free of charge, just by downloading the free HL7® FHIR implementation toolkits. This open and collaborative standard enables organizations to build a data exchange that shares information quickly and transparently. HAPI FHIR is our industry leading open source FHIR server. It can be used without cost or royalty, thanks to the permissive Apache 2.0 software license. Smile Digital Health also has an enterprise grade open source data platform and in this blog we are going to highlight the reasons you may require one versus the other.

The time for FHIR is definitely now, but determining how to appropriately leverage FHIR in your organization comes with its own set of questions. You may be wondering if the free, do-it-yourself (DIY) approach is right for you and whether the perceived savings of doing it yourself are worth the extra time, effort and expertise required for implementation. Alternatively, you may be wondering if paying for FHIR technology implementation is even worth it for your organization.

So let's shed some light on the issue.

Remember the old adage, "there's no such thing as free lunch"? It speaks to the perceived benefits of what is free upfront, yet requires investment or payment later down the line. In this article, we have highlighted the points that your organization should consider before making this decision.
The DIY HAPI FHIR Implementation is a great option for:
Small-scale innovation projects

Early adopter use-cases

A pilot of phased FHIR implementation
Smile's enterprise-grade solution is a great fit when your organization requires:
A large scale implementation - with high performance speeds at scale, advanced security capabilities and deep FHIR expertise for customization

Data exchange capabilities - with secure transfer of data, auditability, searchability and accountability modules that comply with jurisdictional mandates.

Evolving regulatory compliance - Monitoring the evolution of the ONC and CMS mandates and implementing them across the entire organization

Skills and expertise at scale - for organizations that do not have a large or committed IT department with the necessary skills and expertise to manage a large-scale and complete FHIR implementation
Smile Digital Health's HDF is an enterprise level FHIR data interoperability and exchange platform, built upon the set of core capabilities originating from our foundational flagship Clinical Data Repository (CDR). Our HDF platform liberates data using open standards and intelligent data APIs, empowering organizations to disseminate information across networks, at scale. Smile's HDF's high-performance, secure and scalable platform can provide platform expertise, features and support, beyond what is available with the DIY implementation.

We think HAPI FHIR is an amazing resource for fast, free and easy data transformation and interoperability. In fact, Smile has dedicated resources to maintain and actively contribute to the HAPI FHIR open-source project. The building blocks that make Smile's HDF are designed to create more value and make the implementation process easier, more efficient, more robust and scalable for enterprise-level needs . Additionally, being a product company, Smile has enhanced features and capabilities, like support services and commercially supported solution packages to support organizations on their data transformation journey.

This lego image below is what we think this looks like. It shows the base layer (yellow legos) as the capabilities of the DIY HAPI FHIR version, and all the features, capabilities and services offered by Smile Digital Health (blue stacked legos).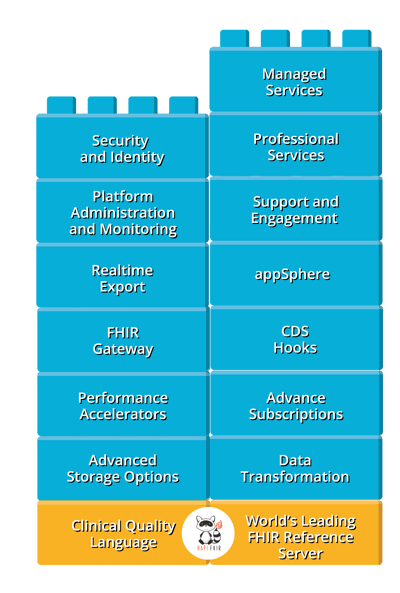 If all your organization requires is a FHIR reference server that supports clinical quality language (CQL), then the DIY HAPI FHIR implementation is a great solution. Most healthcare organizations need additional implementation support, direction, expertise and service solutions that work at scale. So, let's dive into how the building blocks of Smile's Health Data Fabric solution can work for you.
Compliance and Regulatory Requirements

The current and evolving ONC and CMS mandates requirements are complex and require significant technical expertise to translate, implement, build, maintain, test and evolve. When patching up old data and legacy systems, much of your health information may not meet current evolving FHIR compatibility requirements. Building a DIY solution to a mandated IG such as the CARIN Consumer Directed Payer Data Exchange or any of the Da Vinci Implementation Guides can easily consume thousands of hours of analysis, development, and testing effort.

As champions and experts in FHIR implementation, Smile stays ahead of the curve on regulatory requirements to ensure compliance in this changing landscape. We start building out our solutions almost as soon as the new legislation is announced, so our solutions are packaged, tested and ready to go!

Security, Privacy & Risk Management

Data security and privacy are a top concern for every healthcare organization. With enterprise-level support from Smile, you have access to advanced security features – and the resources to quickly recover after an unplanned outage or ransomware attack.

Smile's HDF comes complete with identity authorization (OAuth and OIDC), audit, compliance monitoring tools, and built-in security integration. Security certifications include HITRUST v9.4, ISO 27001:2013, and ISO 13485:2016, as well as (SOC) 2® Type 1.

Since HAPI is a software library, and security and privacy certifications do not apply to libraries, it isn't certified in the same way our Smile HDF solution is.

Performance & Scalability

With Smile as your partner in data transformation, your organization gets the necessary FHIR and implementation expertise to scale, without compromising clinical and operational performance. to help take the guesswork and work-arounds out required to scale. With our new Megascale feature, near unlimited storage and scalability is now enabled on the path of data transformation and interoperability.

Managed Services

In the DIY model, routine management and support of your implementation, daily operations and support when you require it, falls to your internal IT team, who may or may not have the required time, experience and expertise. Managing operational projects like disaster recovery plans, vulnerability scans and patching, reviewing periodic KPI reports, building redundancies and much more, are part of IT maintenance and management.

With Smile Managed Services, our team can fully host and manage your FHIR-based Health Data Fabric solution. By partnering with our experienced team for implementation, operation and support services, you can focus on your business—not IT maintenance. Our services are proactive, unmatched and best in class; as well, they are flexible and catered to your specific organization's needs.

Data Transformation

Smile's product solution suite has specific capabilities that can complete your journey of data transformation. Our HDF allows you to leverage your existing investment in HL7 v2 and CDA documents, while also taking advantage of the additional benefits of the product. Features such as the Channel Import modules and ETL Import modules allow automated and highly scalable data ingestion of other formats such as CSV, JSON, XML.

These features were specifically developed as part of Smile's HDF to help organizations make the shift to highly interoperable systems with enriched and intelligent data as smooth as possible.

Evaluate the Cost

Back to our adage, "there's no such thing as free lunch"? This is a reminder that at the end of the day, it's impossible to get something for nothing. The same is true when it comes to building your own FHIR server.

The DIY HAPI FHIR solution is great when you are starting out, or doing a pilot interoperability project. You will not have to pay anything upfront to use open-source libraries, but there is still a cost to your organization. DIY technical implementations can consume a lot of internal time and resources, as systems may require recreation and new customized integrations and processes need to be made. As well, expertise in a proper FHIR-based system and data architecture takes time, experience and in-house resources to build and maintain.
The final piece of cost is when a problem arises. When that happens, a lack or delay of dedicated and timely support services and technical implementation expertise can affect operations negatively. As such, the cost and risk of this also has to be accounted for.

The DIY HAPI FHIR implementation can take you up to a certain point on your data transformation journey. For the next phase of interoperability, expertise and support, we at Smile, are here for you. Smile's HDF provides a reliable and secure platform that open-source code and community support alone cannot offer.

If you're a growing organization with interoperability needs and a goal to accelerate your time-to-market with a high-performing, scalable and flexible FHIR-data platform you need to invest in your today, to invent your tomorrow.

Contact us today to FHIR-start your data transformation journey.
Follow us on social: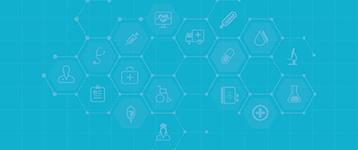 The Urgent Need for HL7® FHIR® Adoption
Healthcare depends on the timely sharing of information...
Read More >>
Recent Posts