February 10, 2023
Prior Authorization Series: Part 5 of 6
Paper forms are a nuisance for everyone in the healthcare sector. Filled out by patients, relatives, administrators, and clinicians, they are rarely uniform, often unintelligible, and don't conform to any standard set of terms or definitions. This absence of standardization during the data-gathering process leads to a lack of interoperability that significantly hampers the efficacy of essential healthcare processes like Prior Authorization (PA). Fortunately, Fast Healthcare Interoperability Resources (FHIR®) is a healthcare-specific domain standard which solves that problem by digitally optimizing the form-filling process for Payers and Providers. However, to understand how this is accomplished, we need to review the basic functionality of FHIR.

FHIR defines how healthcare information can be exchanged between different computer systems regardless of how it's stored. Its functionality is empowered through FHIR-based APIs (application programming interfaces), which enable entry points or "interfaces". Through these entry points, a computer program or system can access the features and data-sets from a different program or system. This entry point defines how data must be formatted, and the types of interactions supported, such as how data can be searched. As a result, Payers and Providers are able to use FHIR-based questionnaires that can capture every type of data available to healthcare systems, including but not limited to administrative data, claims data, clinical information and research information.

For electronic Prior Authorization (ePA), FHIR APIs allow Payers to express their documentation requirements computably in a way that supports clinicians and other EHR users to navigate and locate the information required for a quick ePA decision. The Da Vinci Document Template and Rules (DTR) Implementation Guide is a standard that leverages FHIR APIs to help facilitate this ePA optimization across the entire healthcare sector. If adopted, DTR has the ability to completely innovate the landscape of ePA and allow for truly transformative improvements in healthcare.

However, to understand the benefits of DTR, one needs to be familiar with the inefficiencies holding back the eligibility verification workflow.
Understanding Document Templates and Rules
Perhaps the most painful component of the PA process for medical practices is understanding what information is required by the Payer. Some Payers utilize a universal form, while others don't. The irregularity from Payer to Payer in requiring documentation makes it difficult for practices to keep track of what each Payer requires. This results in delays in patient treatment, potential rejection of the PA request, and wasted resources on both the Payer and Provider ends of the equation. This is where DTR comes into play!

DTR is an API that enables Payers to disclose their documentation and clinical evidence requirements by structuring questionnaires according to the requested procedure. This allows the Payer to obtain specific information that they require to evaluate the request, against existing evidence criteria or specific proprietary policy.

DTR is able to provide greater transparency to healthcare Providers by enabling faster, low burden PA requests that are far less likely to face rejection or requests for further evidence. After recognizing the time-saving potential of DTR, Smile designed an application built around the API to ensure its users can maintain administrative due diligence during the PA approval process, while maintaining high quality of care.

Smile's DTR application is also equipped with the pre-population functionality of Structure Data Capture (SDC), which will further optimize the PA workflow for its users!

So what is SDC, you ask? Much like DTR, it's most effectively defined by highlighting the issue it aims to resolve.
How Structured Data Capture Aims to Improve PA
Presently, Providers face several obstacles in pursuit of quick PA approvals. However, one of the biggest obstacles for Providers is being able to electronically submit the full patient profile with all the relevant information required for a medical necessity review. Although the FHIR standard defines some basic ways to share forms, it only supports the most prominent capabilities.
SDC allows for additional capabilities to be included, enabling the use of the following features:
The ability to auto-fill form answers with information already inputted in EHRs

Better control over the format (the look, feel, and behaviour) of the form

Determining which systems can use forms and how they can interact with them
In healthcare delivery, acquiring information about the patient's condition or chief health complaint is a lengthy and laborious process. However, additional functionality like those mentioned above can circumvent this problem by enabling queries about a patient's condition without needing the patient's repeated input. SDC optimizes the data acquisition process by pulling previously stored data from the patient's medical record to help satisfy the form-filling requirements attached to their healthcare service.

Put simply, SDC provides a foundation for capturing, exchanging and using patient data within an EHR.

SDC's functionality is made possible by Clinical Quality Language (CQL), which is a standard and authoring language that is both human and machine-readable. CQL allows for the declaration of quality rules for a given measure or decision to be reached. In short, CQL can be utilized for decision support automation by enabling users to render criteria for the evaluation of PA requests.
Breaking Down The Benefits: Payers and Providers
A key component of Smile's Prior Authorization Integration Solution is the DTR module. It enables Payers to leverage the power of SDC and CQL capabilities to optimize the form-filling process by maximizing the interoperable capabilities of FHIR.

For Payers, the benefits of FHIR-based questionnaires include:
Supporting the ability to retrieve information specific to the type of service requested by the Provider, enabling near real-time approvals.

Allowing customized ePA forms for highly requested and complex procedures.

Allowing for conditional approvals. This is where Payers can approve ePAs rapidly by creating a questionnaire that expresses the specific information required for a utilization or medical necessity review to be pre-populated from within the EMR/EHR.
The benefits for Providers include:
Reducing the data collection burden by enabling secure, single-point data entry that populates to multiple systems.

Decreasing the need to make site-specific modifications to EHR system capabilities to enable participation in important reporting and research activities.

Clarity in declaring relevant and required information through the questionnaire, thereby minimizing submission errors, additional information requests and missing data.
Further, FHIR-based questionnaires can also be applied to other use cases such as:
Lowering the barriers to volunteer adverse event reporting on medical products to public health agencies, leading to improvements in population health.

Enabling clinically actionable data from medical screenings. E.g. FHIR observations can be created for a Patient Health Questionnaire 9 (PHQ9) to screen for depression. Those observations can then be used to set up rules for specific scores that trigger automatic follow-up appointments when depression is indicated.
After reading the above benefits, it is clear that FHIR-enabled ePA no longer has to be viewed as a tedious endeavour. This is because tools like CQL, SDC and DTR have completely revolutionized the landscape of PA, revealing a clear path toward faster and more accurate patient outcomes. Here at Smile, we are happy to guide you on that path using FHIR APIs, which are primed to optimize PA on the Payer and Provider side of healthcare. So, if you're interested in maximizing your organization's potential, call Smile and learn how the DTR application can propel your organization forward with the true power of FHIR!
To continue learning about the Prior Authorization Series, read our blogs:
Part 1: Why the CMS Prior Authorization Rule Is a Win for Providers and Payers
Part 2: A Mutual Burden for Providers and Payers and How Interoperability Can Facilitate Change
Part 3: Breaking Down CMS Rule: Open Standards Bring Healthcare Out of the Stone Age
Part 4: How CDS Hooks Will Break Down Data Silos in Healthcare
Part 5: Harnessing the Real Power of Data Interoperability
Part 6: Coming Soon…
Follow us on social: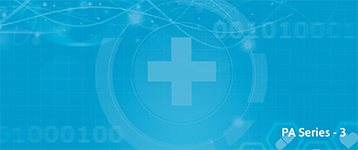 Prior Authorization Part 3 of 6: Breaking Down CMS Rule.
The debate around prior authorization (PA) and its practicality in providing value-based services....
Read More >>
Recent Posts