Smile Is Here To Help
This year's HLTH conference takes place from October 8th to 11th and will see some of health IT's most successful and inventive companies gather together in Las Vegas, Nevada, to help advance the pace of innovation in healthcare. With over 10,000+ participants, HLTH is one of the cornerstone events for any organization looking to learn more about innovation from the most respected technological authorities in the healthcare industry.

For this reason, Smile is proud to send Howard Jong, Ghislaine Bellemare and Rob Reynolds, to speak at this year's HLTH conference so they can offer their insight on data optimization and how it can help organizations meaningfully share their health information.

We understand the powerful impact in-person events can have on healthcare, especially when thought-leaders offer up their expertise in the name of #BetterGlobalHealth. As a result, Smile will be present at booth #5026, where we will provide education on FHIR® in addition to how Smile's capabilities as a Health Data Fabric can empower organizations to increase their operational efficacy by harmonizing their assets into a single, comprehensive data environment.

So why was Smile chosen to speak on the operational benefits of FHIR? Well that's simple. We've been there since the very beginning.

Smile's top executives, Duncan Weatherstone (CEO) and James Agnew (CTO), have been champions of FHIR from its earliest stages, allowing them to accumulate a wealth of FHIR expertise through being connected to the standard from the very start.

However, to fully understand Smile's entire role in the evolution of FHIR, please take a look at our company's timeline below: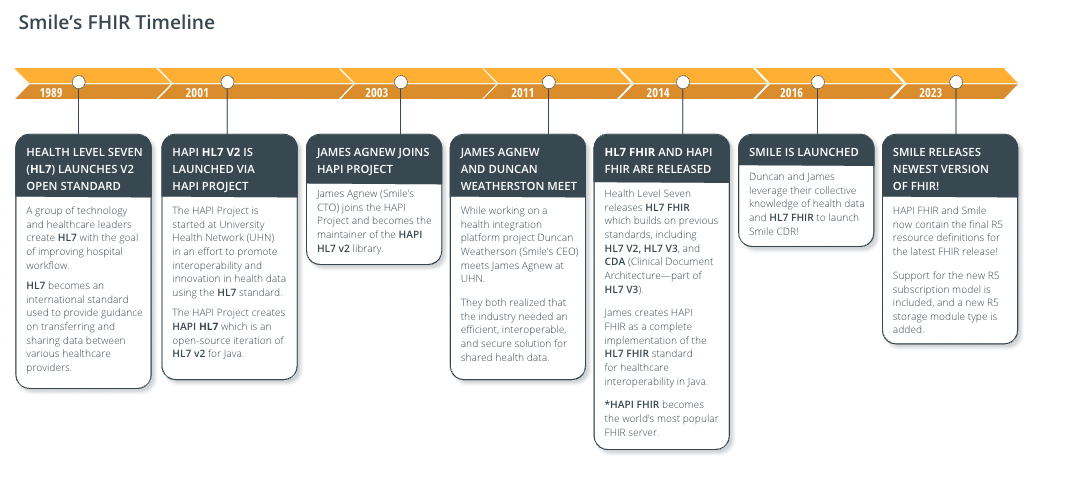 In summation, having a CEO and CTO who were part of FHIR during its earliest stages has enabled Smile to build a highly effective suite of FHIR-based products. These products include but are not limited to Appsphere, Health Data Fabric and our Payer Member Portal, which can help solve healthcare's data optimization issues today and scale to solve those of tomorrow.
Smile takes pride in this robust product offering, as we understand the difficulty organizations face trying to keep up with the shifting landscape of data exchange in healthcare. Whether it's navigating the Centers for Medicare & Medicaid Services (CMS) mandates or employee burnout each responsibility places critical demand on an organization's data exchange capabilities every year.

Due to this, we look forward to annual events like HLTH that allow Smile to provide valuable insight into why FHIR is the most effective path forward for securing robust, interoperable data exchange that can help satisfy compliance requirements, enhance quality care and improve your bottom line.

For any attendees looking to improve their strategies for intelligent data usage come visit Smile at this year's HLTH conference at booth #5026. However, if you're not attending but are still interested in participating in other thought leadership events like HLTH, visit our Webinar and Events page on the Smile Digital Health Website to learn more about our upcoming events like the NCQA Health Innovation Summit and how you can attend!
Follow us on social:
Recent Posts