Skin Cancer Early Detection Rates Increased with Teledermatology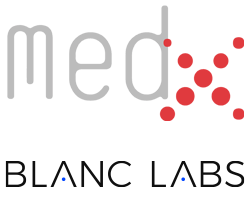 Introduction
Skin cancer is one of the most commonly diagnosed–and deadliest–cancers in the world. Early stage melanoma has well-documented treatment protocols with a high rate of success with up to a 99% survival rate. However, when suspicious moles or skin lesions go undiagnosed, a patient's chance of survival can plummet.

To solve the problem of late diagnoses and to save more lives, MedX, the creator of the medical imaging device SIAscope, sought to deploy a teledermatology platform that would securely transmit their high quality images for dermatologists to assess.
MedX partnered with Blanc Labs to upgrade their software from an antiquated PC-based system to a browser-based platform capable of storing and sharing data securely on the cloud. Blanc Labs identified Smile Digital Health as the strategic HL7 FHIR partner that could help enable MedX's global expansion and interoperability requirements.
Within two years, MedX's teledermatology platform serviced tens of thousands of patients across three continents. Now, patients and physicians can receive accurate diagnoses of suspicious moles and skin lesions in two days instead of weeks or months. Patients can get the life-saving early intervention they need with the streamlined and simplified experience MedX provides for both the patient and clinician.


Case Study Players
MedX, headquartered in Ontario, Canada, is a leading medical device and software company focused on skin health with its SIAscopy on DermSecure telemedicine platform, utilizing its SIAscopy technology.
Blanc Labs is a preferred partner for enterprises looking to digitize and build the next generation of technology products and services. To help companies rapidly deliver on their digital initiatives, Blanc Labs has developed expertise and bespoke solutions in a wide variety of applications including financial services, healthcare, enterprise productivity and customer experience. Headquartered in Toronto, Blanc Labs serves the Americas through operations in Toronto, New York, Bogota and Buenos Aires.
Smile Digital Health is a Toronto-based health technology company that reduces barriers between information and care for those who deliver or consume healthcare services and products and whose roles or care are hindered by fractured, inaccessible, or complex information systems. Smile's complete clinical data repository is built around the HL7 FHIR standard used for storing health records
MedX: On a Mission to Deliver World Class Imaging Providing Better Patient Outcomes
Skin cancer kills, but it doesn't have to. Early detection is critical to a patient's survival rate. In just eight months, an easily treatable Stage 1 melanoma can grow into a far more dangerous Stage 5 cancerous lesion. This diagnostic delay drops the patient's survival rate from 99% to 30%. The cost for treatment increases exponentially, from approximately US $2,500 for Stage 1, to well over US $1M for a Stage 5, which falls to both the patient and the healthcare system.
To help dermatologists make more accurate assessments of the skin as early on as possible, MedX, a medical device manufacturer, developed the SIAscope. The SIAscope is a non-invasive medical imaging device that gives dermatologists a more complete picture of the skin, including images from 2mm below the skin's surface. Dermatologists equipped with the SIAscope, have been able to screen tens of thousands of lesions quicker and earlier in their development thus creating better patient outcomes and reducing the cost. Unfortunately not everyone has immediate access to a dermatologist or to this powerful imaging technology which, until recently, was physically tethered to personal computers in clinics. Without the benefit of the SIAscope and DermSecure, an estimated 42% of the images that primary care physicians send to a dermatologist are not of sufficient quality to support a diagnosis. Patients with suspect moles or discolorations of the skin must often wait for months to be seen by a specialist. In 2020 alone, the World Health Organization estimated that nearly 60,000 melanomas went undiagnosed because of COVID-19.
When melanomas are missed, lives are put at risk.
Improving Early Intervention with Better Access to Care
Any loss of life caused by late-stage skin cancer remained unacceptable to MedX, who believes everyone should have quick and easy access to a dermatologist. MedX envisioned expanding their offering from an image capture device with PC-based software, to a full-scale, integrated teledermatology platform called DermSecure™ that could operate using a browser-based, multilingual interface. This way, they could help more patients around the globe, especially those without immediate access, to a specialist.
To meet this vision, DermSecure™ would need to be capable of securely storing and sharing high quality images for dermatologists to access right away, from anywhere in the world. It would need to be cloud-based, regulatory approved, and capable of linking images with the patient's data in their electronic health record (EHR). Furthermore, MedX wanted patients and specialists to be able to access these images for up to ten years, so any new scans could be compared and any skin changes identified.
Initial estimates to build this teledermatology platform with all the interoperability, security and regulatory requirements were over GBP $7 million in cost and a timeline of one year to complete.
There had to be a better way.
MedX Sources Blanc Labs as Platform Development Partner
To solve the challenge of developing and deploying DermSecure™ more affordably and on a faster timeline, MedX reached out to Blanc Labs, a digital innovation firm that provides consulting, design, development, and data intelligence expertise to enterprise organizations.
Blanc Labs developed a solution to rebuild MedX's antiquated software. They created a USB connection for the SIAscope so it could operate on a browser-based, multilingual interface. This important step made it practical to deploy SIAscopy software on any hardware globally. But to effectively launch the DermSecure™ platform on a global scale, Blanc Labs would also have to move it to a secure, interoperable cloud environment. They knew the rapid expansion MedX desired required built-in HL7 FHIR compliance.
Unlike BlancLab's traditional database clients, MedX required a data repository that would not only host the data captured by the SIAscope, but would also host the patient clinical data. Blanc Labs needed to consider other factors such as: data interoperability, data governance, and access control. Additionally, in order to scale and integrate with healthcare ecosystems internationally, MedX's DermSecure™ needed to be HL7 FHIR-compliant and capable of supporting HIPAA, PHIPA, and other medical information privacy regulations.
Blanc Labs Seeks Ideal Data Repository Partner

To architect this one-of-a-kind teledermatology platform, Blanc Labs sought a partner capable of meeting the following requirements:
A scalable HL7 FHIR compliant platform that could be implemented and deployed with minimal time to market (i.e., cloud deployment ready);

Flexible deployment options with respect to database, public-cloud and on-premise;

Ability to hold audit logs;

Capabilities to allow for monitoring and authorization
Smile, a purpose-built clinical data repository designed around the HL7 FHIR standard and used for storing health records, quickly emerged as the most efficient and strategic choice for MedX's DermSecure solution.
Blanc Labs, Powered by Smile Digital Health, Brings MedX Teledermatology Platform to Life in Record Time

MedX became the first company to benefit from Blanc Labs' newly-forged partnership with Smile Digital Health.
"With Smile CDR, we can help our clients establish interoperability between health systems and build the next generation of apps for their organization," said Hamid Akbari, Chief Executive Officer of Blanc Labs.
But it wasn't only Smile's reputation for FHIR expertise and integration capabilities that caught the attention of the Blanc Lab engineers. Smile's built-in functionalities—its search engine, auditing and monitoring dashboard, and FHIR server with a RESTful API—also appealed to the engineers as they developed a plan to meet MedX's ambitious, global goals.
Most importantly, Smile's data repository would allow DermSecure™ to integrate with EMRs and patient ecosystems across geographic and language barriers.
Working together with Smile teams, Blanc Labs created the integrated solution for MedX's DermSecure™ platform. Here is what the platform can now do:
Captured images can be stored securely on the cloud
Images can be viewed alongside secure patient data during each patient consultation request
Built-in secure FHIR endpoints allow for communication via RESTful interactions with the server
MedX back-end can integrate with EMRs and other FHIR-compliant systems, allowing future compatibility and integration with medical applications all over the market.
According to Hamid Akbari, Chief Executive Officer of Blanc Labs, the partnership with Smile Digital Health and MedX was a success based on the following indicators:
Time to Market: Using the built-in components of Smile, Blanc Labs developed the platform in an accelerated software development cycle.
Practicality: Blanc Labs transformed the PC-based product to a browser-based, multilingual interface. This made it practical to deploy DermSecure™ globally, on any hardware.
Adoption: The product was adopted in three continents and seven countries in less than two years.
Scalability: The modern architecture of the Smile solution made it possible for DermSecure™ to be rapidly deployed in each jurisdiction and to adapt to local regulatory data residency mandates.
In a matter of 12 months, Blanc Labs and MedX unveiled the improved, more accessible SIAscopy on DermSecure™ to dermatologists, physicians, and pharmacies.
MedX's Early Detection Capabilities Reduce Anxiety, Save Lives
MedX's SIAscopy on DermSecure™ is now a fully integrated service that combines innovative, peer-reviewed technology with a secure, cloud-based patient management system. It is used in over 200 clinical locations on 3 continents with regulatory approvals in 35 countries including the US, Canada, Australia, Brazil and the EU.
At the beginning of the project in 2017 Robert von der Porten, President and Chief Executive Officer of MedX said:

"We believe that this telemedicine platform is a game-changer for people–no matter where they live–who will be able to get their moles and lesions accurately assessed by a dermatologist without having to endure lengthy wait times to determine if there is cancer present. It brings the advantages of telemedicine to the growing skin cancer problem, while offering the benefits of software as a service (SaaS). We are confident that the deployment of our system will help reduce patient wait times, healthcare costs and mortality rates."
More Smiles Made Possible with MedX
"Skin cancer is a massive global issue, and we see the telemedicine platform as a way to help dramatically reduce skin cancer's human, financial and emotional toll," said Hamid Akbari, Blanc Labs' Chief Executive Officer.
Now, using DermSecure, front-line healthcare providers can seamlessly consult with dermatologists to offer more effective and efficient patient care.
Here's How It Works:
A physician sends SIAscope's high-quality image of a suspicious mole and the patient's file to a specialist on the DermSecure platform. The dermatologist renders an assessment and it is made available to the physician in as quickly as two days. MedX stores the image and detailed assessment report in compliance with local health and privacy regulations.
For physicians, this seamless integration into EMR platforms is efficient and collaborative. For patients, it is a relief. Instead of waiting for months—or even up to two years—for a diagnosis, patients can receive results within days from a specialist and get the treatment they need when it makes the most difference.
The partnership with Blanc Labs and Smile Digital Health expanded MedX's business model to enter the global telemedicine market, where they can save more lives than ever before.
"At MedX, we believe this is only the beginning of the role telehealth can play in improving patients' health by accelerating the patient's pathway to diagnosis. MedX is committed to continuous improvements of security, usability, interoperability and delivering quality medical images to specialists in a timely manner to improve patient outcomes," said Paul Ziemer, General Manager at MedX.